Storm Drain 40 in. Architectural 316 Stainless Steel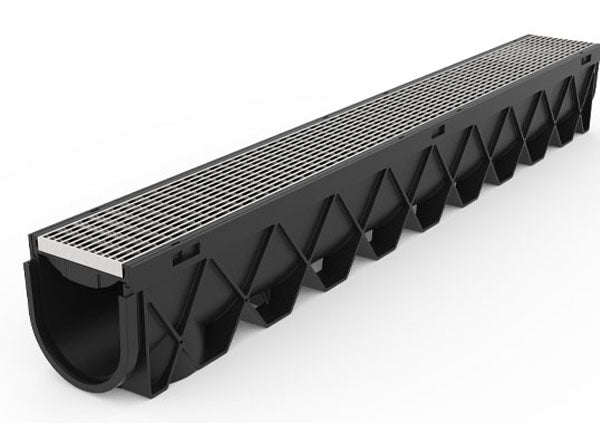 Channel Drains
Storm Drain 40 in. Architectural 316 Stainless Steel
Eliminating outdoor runoff water which can cause flooding and pooling around a property is quick and easy with the RELN Storm Drain Channel system.
Storm Drain Channel complete with Architectural 316 Stainless Steel Grate is available in 40 in. lengths, with interlocking sections that snap-in together to create the desired length that suits your project. The systems design allows maximum flexibility with, corners and intersections. The "U" shaped channels aid in self-cleaning with a deep profile. You can connect Storm Drain to 4 in. sewer pipe with the end outlet, Inline pit and to prevent leaves or other debris clogging pipes or waterways with the Leaf Guard.
The linear grate to suit domestic pedestrian and vehicle traffic and ADA compliant.
ADA compliant grate
316 stainless steel marine grade
Supports domestic passenger vehicles (with appropriate installation in concrete)
Built in bottom outlet accommodates 4 in. sewer drain pipe, can be cut or drilled out
Anti-floatation feet to prevent floating when encased in fill material
Cross braced ribs are designed in the body for strength and rigidity
Height: 5 in
Width: 4.75 in
Depth: 40 in
Weight: 5 lbs