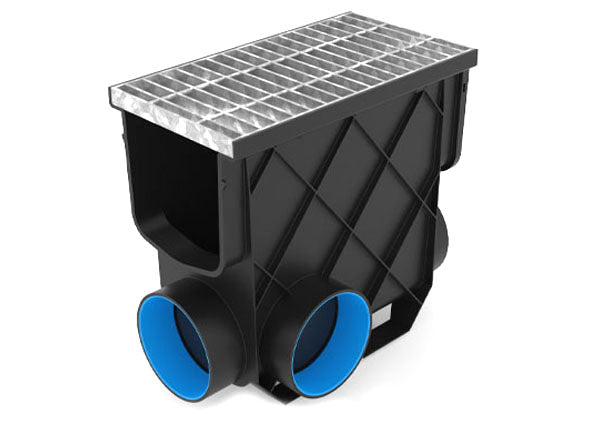 Inline pit is designed for fast easy connection to 1M channel with clip system
When installed the Inline pit looks like part of the Storm Masta channel
Class B Galvanised Steel Grate with lockdown security
Choice of 4 x 150mm outlet locations with ABS inserts for easy gluing of PVC
Anti-floatation feet stops channel from moving or floating during concrete pour
Height: 10.4 in
Width: 10.8 in
Depth: 20.0 in
Weight: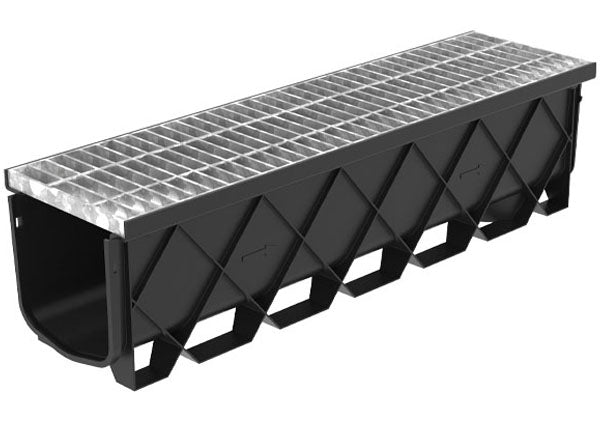 The heavy-duty Storm Master Pro series drainage system is ideal for the collection of substantial flows of surface water in large domestic and light commercial areas.
With wider, deeper channels, a high-intake, galvanized steel lockdown/anti­ tamper grate and a self-cleaning channel base, Storm Master g gets the job done efficiently. Made from durable, lightweight, recycled plastic, this top-of-the­ line system is also easy to install and connects to a wide range of components.

Class B galvanized steel grate with lockdown security
Clip in joints assembly for ease of installation
Bottom knock-out outlet, designed for 6 in. PVC pipe
10 ton vehicle loading with appropriate concrete installation
Dimensions: 40 in. L x 10.75 in. W x 10.375 in. H
Large profile channel with specially shaped self-cleaning channel base to clear high flows of storm water
Strong, durable and lightweight UV stabilized poly propylene channel
Height: 10.4 in
Width: 10.8 in
Depth: 39.4 in
Weight: 31.7 lbs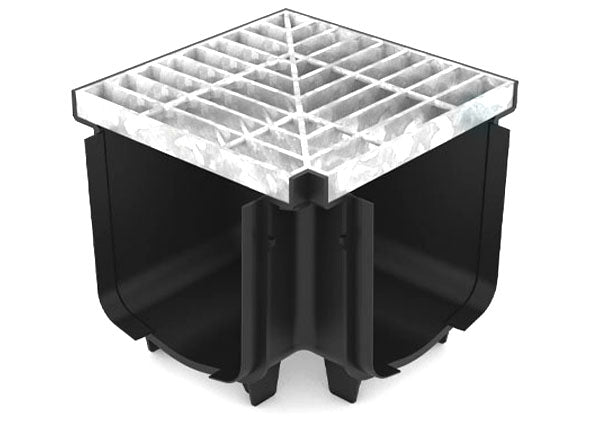 Storm Master surface water drainage system is the perfect solution for collection of high surface water flows, in large domestic and light commercial applications
Class B Galvanised Steel Grate with lockdown security
Large profile channel with specially shaped self cleaning channel base to clear high flows of stormwater
10 ton load capacity